Tranquil Media Group CEO Harun Momanyi has appeared on Msafiri Magazine, the KQ customer magazine. The April/May 2021 feature highlighted his journey as a self-taught journalist and entrepreneur in the making.
Mr. Momanyi discussed a range of amazing stuff, including what it takes to be successful in the media industry.
"One has to be your motive. It has to be the correct one. Many venture into the industry for quick fame and riches, only to find out that there is more to that than just being known. It takes grit, hard work and extreme patience to succeed the right way. Secondly, media requires having a high-quality network with individuals with whom you can have value exchange with. You've got to be a people's person, while maintaining respect and boundaries. Lastly, be visionary. Look beyond today or tomorrow," he said.
The feature comes at a crucial time when Tranquil Media Group is scaling its flagship brands, Career Fodder and Fashion Today. The two websites cover the careers and fashion niches respectively.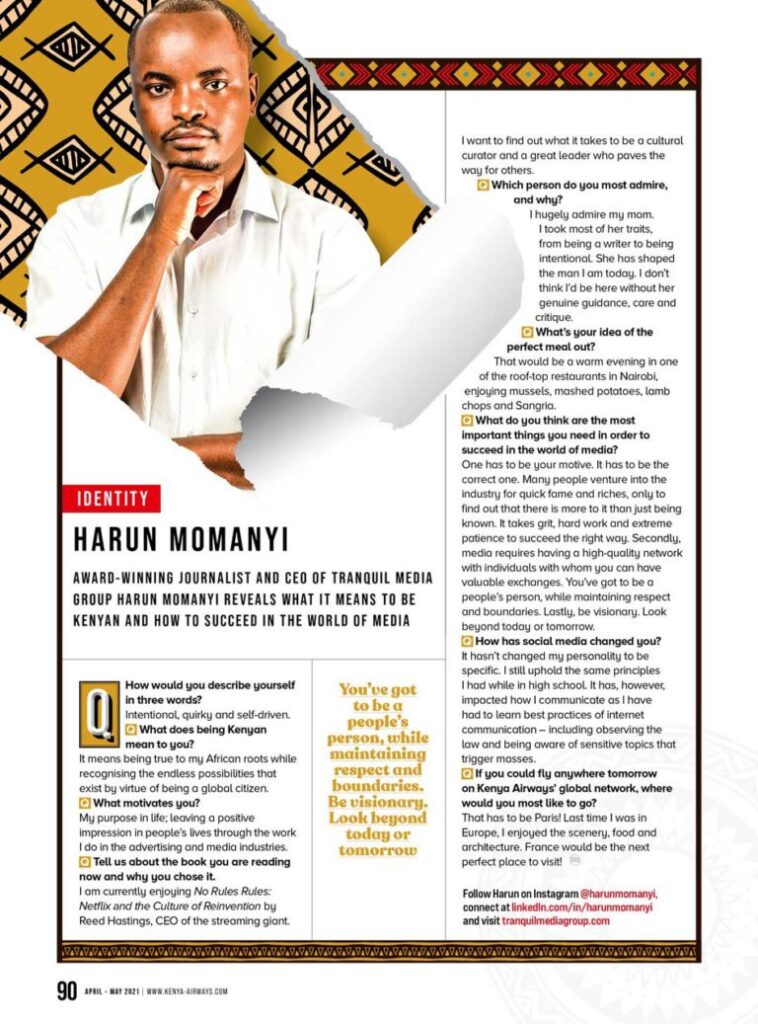 Speaking about the feature, Mr. Momanyi thanked Kenya Airways for casting the spotlight on him,
"Growing up, I was fascinated by people I saw in the media. Some of them greatly influenced my career. Being featured in Msafiri Magazine is an honour. I am humbled by the fact that people are watching. I hope that this and more upcoming magazine features inspire young people out there," he said.
You can read the magazine on the Msafiri Magazine website.