"It's a really beautiful piece – thank you so much, Harun."
That's what Amy Astley, Vice President, Publicity & Communications at Walt Disney Animation Studios said about my recent interview with the team at Kugali Media. Shout out to both teams in Los Angeles and London for making this interview a success.
The feature is for the Aug/Sept issue of msafiri, the Kenya Airways customer magazine. The team of animators and writers is working with Disney on a sci-fi animated series dubbed Iwájú, which will start streaming on Disney+ in 2022.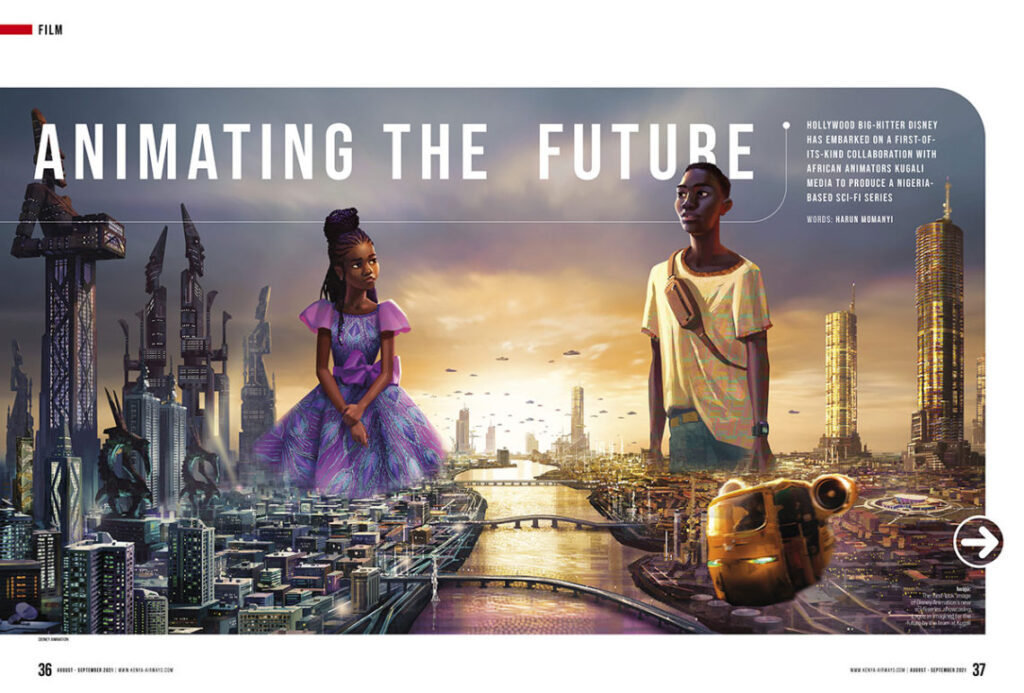 Kugali Media was founded in 2017 by Ugandan animator Hamid Ibrahim and Nigerians Ziki Nelson and Tolu Olowofoyekuo. The company tells stories inspired by African culture using comic books, art, and augmented reality.
The majority of the team is based in Africa, with their work happening virtually. This started way before the pandemic, thus they had an easy time adapting.
In the interview, we got to explore a tonne of stuff, including how the Disney x Kugali collaboration came to be, the process of making an animated film, and the kind of effort it takes to puff off such a collab.
"Ziki and I grew up in Lagos. We're actually childhood friends. Lagos is one of the most interesting cities in the world, in my opinion. Everything is dialed up to 11, both positively and negatively," said Tolu.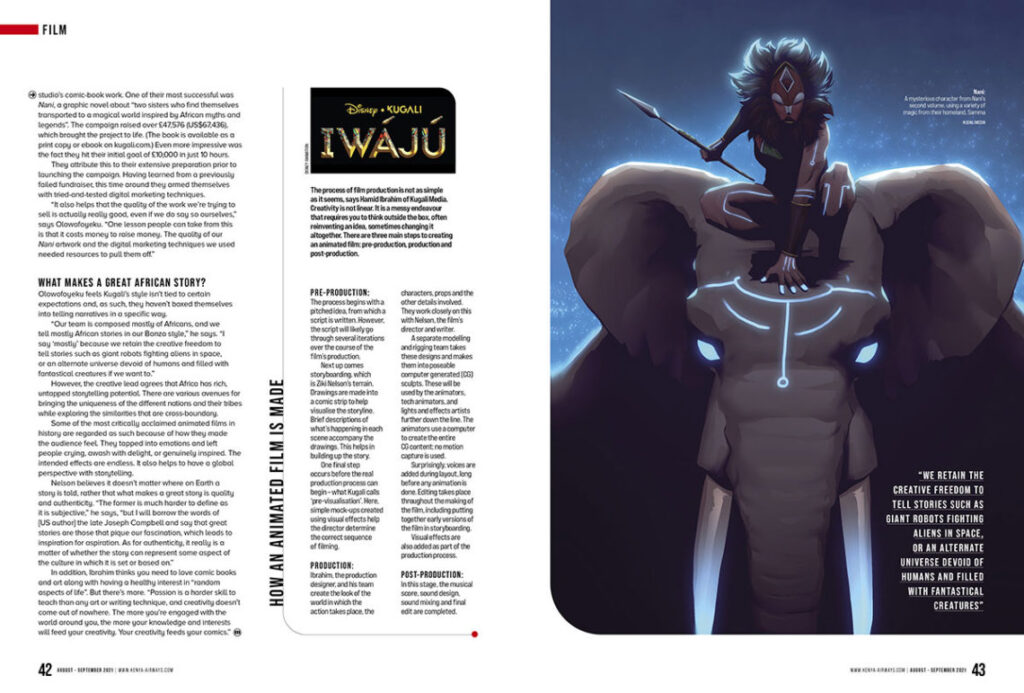 We even got deeper and found out what the series is all about. This is an exclusive take on the project; previously, media reported that the "series will explore class, innocence and challenging the status quo."
"We wanted to show the world the quirks of our city, show off the great things, the whimsical, the absurd, the ugly, and the mash-up of Nigerian culture that is Lagos, the commercial and entertainment capital of Nigeria. We also want to explore themes of class, innocence, and challenging the status quo," he added.
It's no mean feat to achieve all of this. Hamid, for example, had to survive on rice and eggs for months while bootstrapping Kugali Media in its infancy. Nothing comes easy; it takes hard work and courage to do great things.
I won't give away all the content; head up to the msafiri magazine website to read it in length; it starts from page 36. Enjoy and be inspired!