Tranquility, class, and great service are three qualities that you can find at Pablo's Restaurant at Four Points by Sheraton – Hurlingham. The ground-floor spot is ideal for both business and leisure travelers with an itinerary in Nairobi.
Located in an upmarket neighborhood and just 4 kilometers from the Nairobi CBD, this Pablo's Restaurant is a must-visit.
I can attest to this as I recently had a great experience at the establishment. I had spent the previous night at the hotel and it was a memorable one.
My night's stay
The room I got myself was a Deluxe. The feeling I got when I entered was that of ultimate relaxation after a long day at work. I loved the choice I made because the room was cozy and spacious and more importantly, the balcony was simply perfect.
The room had everything you needed – from the plenty of instant coffee to the fresh fruits which were a touch of class.
The ambient lighting set the mood; I was in for a great night. Apart from that, the shower I had was the best I've ever experienced in a hotel room.
The huge TV also had a huge selection of entertainment by DStv. I didn't miss an episode of my favorite show while away from home.
Breakfast at Pablo's Restaurant
I slept quite late so I was a bit late for breakfast. However, I managed to get myself some delicious fruits and coffee. The Chef was kind enough to show me a selection of the meals on offer. By the way, if you need some amazing seafood, this is the best place to try.
Here are some of the amazing meals I got to sample:
For lunch, I ordered chicken and ugali, which came presented in the best way imaginable. I had just come from exploring Mezze on the Deck, the rooftop restaurant. The staff was really courteous, and I loved the overall presentation of the chicken.
My observation was, that no matter how simple a meal is, there is a lot of care that was put into presenting it.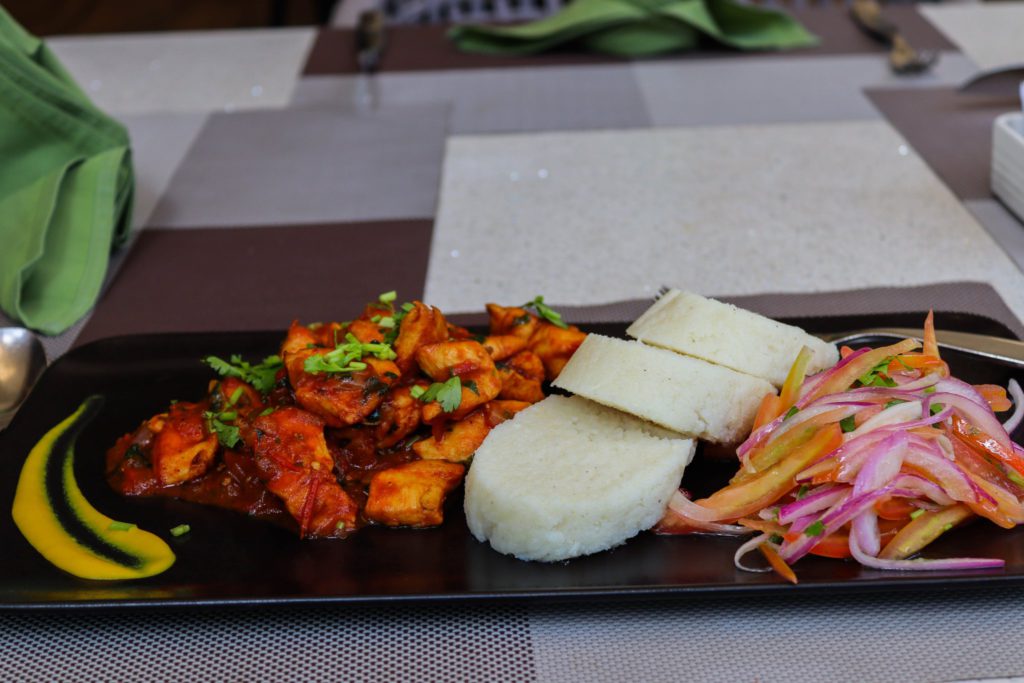 After I finished dining, I explored more of the ground-floor restaurant. It was calm to the point that it felt like a private lounge at a world-class airport.
This is one of those places where you can work in peace. You can even have a Zoom call!
If you book Four Points by Sheraton – Hurlingham, Pablo's restaurant will offer you a wide variety of dishes, fast wi-fi for business calls, and of course a memorable experience that you'll never forget.
Visit their website to reserve your room or table.