You just read that right; the hotel is offering something that no one else in the country is. If you're a travel junkie like me, your heart must be beating faster by now…from the thrill that comes with the imagination of having such a unique breakfast.
So, what is it like, the Breakfast with DJ Mix?
Before we go right in, I'll first introduce you to the brand.
The Kempinski Group of hotels is one of the most reputable and recognizable luxury hospitality brands on the planet. It is synonymous with everything excellent and epic, for instance it's Berlin establishment – Hotel Adlon Kempinski – was featured in the 2011 thriller film Unknown starring Liam Neeson.
4 years later, the 44th President of the United States, Barack Obama stayed at the hotel during his first Kenyan visit since 2006. This is the presidential suit he slept in: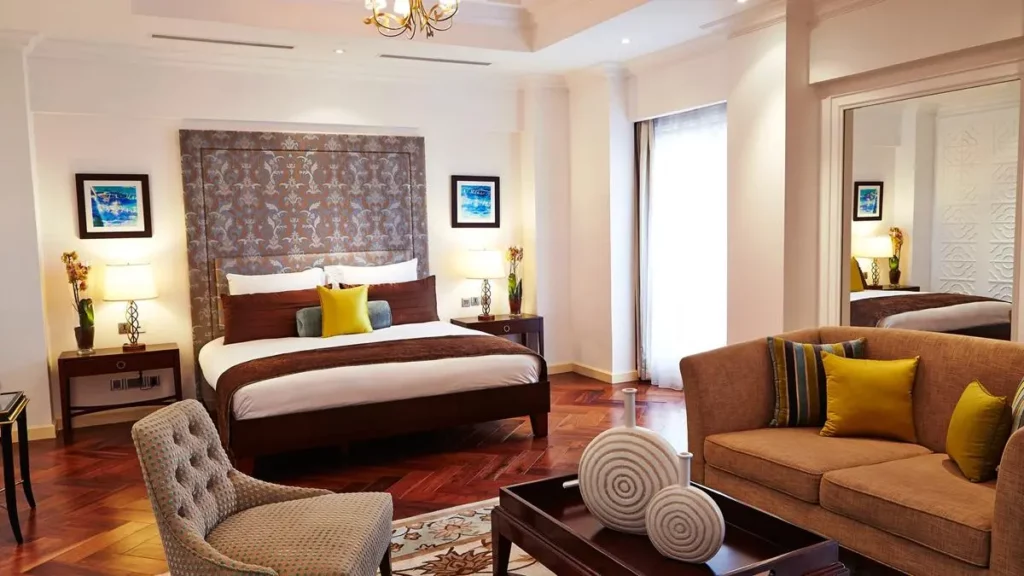 When you pass by Villa Rosa Kempinski Nairobi, there's a special feeling that it bestows upon you. That's the same feeling you'll get when you visit Kempinski Seychelles Resort Baie Lazare; a feeling of desire. If you're as imaginative as I am, you can picture yourself visiting any of its branches around the world, unpacking your bags from a Bentley Bentayga while looking at your Breitling chronometer to better plan your vacation on what I'd call heaven on earth. I love, love the exquisite nature of the hotel.
When you walk right through the gate, you'll be greeted by a palace-esque, pristine 5 star magnificence of the hotel. Its lobby has this signature scent that only comes with British luxury. The doormen are subtle with their moves and super attentive. Just outside the K-Lounge, there's a patio with with lush green grass, a roman-style fountain and scenic spots…perfect for a sunny day photo shoot. The Kempinski brand has been doing incredible things since 1897…and as you read this, there's an ongoing 120th anniversary.
So on the particular day of the Breakfast with DJ Mix, I checked in at around 8AM, braving the chilly Nairobi weather. I'd been given an exclusive invitation by the hotel, to be one of the first batch of journalists to experience the rare experience first-hand.
I know you're probably asking, how did the concept come about? Is it like clubbing in the morning, while popping bottles and hitting the dance floor? It has an interesting history:
"On 31st December 2016, we had a gig at Tambourin Restaurant, one of the eateries at Villa Rosa Kempinski. The GM was very happy by what we did and he was interested in how we can make things better at the hotel. We drafted a proposal and started playing during Mondays and Saturday nights and then it evolved into Breakfast With DJ Mix," A2, the man on the decks reveals. He's been a professional entertainer for over three years. His classic man look – smart casual – tells it all…he's serious about his craft. He's not your typical or average DJ. Playing for a luxury hotel isn't easy, he says.
Given that his audience comes from all over the world, how does A2 know what exactly what the guests want to listen to?
"Normally, for Friday nights, I usually play hype songs, but when it comes to entertaining guests in the morning, I do it differently. You'll find that there are dignitaries, business owners, a mix of different cultures…I don't do it the typical 'Nairobi way'. I have to sit down, make sets and understand my target audience. You need to do research. It took me two months to prepare before we officially started it. And that was preparing for just two weekends. You need to cater for Germans, Swedish, Nigerians, Mozambicans…you'll have each and every part of the world represented. If you don't find them today, tomorrow you might bump into Russians or Bulgarians. You need to have a set for each and every person," he adds.
A2 notes that entertainment at the hotel could evolve and be incorporated into individual rooms, but for now he's upbeat about the fairing of the exciting project, something that Executive Chef Marius Ackermann concurs with.
"It was done in other Kempinski Hotels before and what we saw is that it picks quite fast because people are getting bored with sitting in a normal restaurant – especially young people. After you go out on a Friday night, you wake up to the lux of having a great breakfast with friends. It's not about people dancing, really, it's all about the vibe from the previous night," he says.
The setting of the experience, Cafe Villa Rosa is one of a kind. It serves a wide range of local and international buffet dishes. It is the ideal dining venue for families, corporates and friends. While there, I chose to have two good glasses of freshly made mango juice, muffins, baked beans and beef sausages.
"What you get is a very elaborate breakfast buffet with hundreds of items on it. Eggs are freshly made – right in front of you. We have freshly baked pastries, Danish croissants, bread…a lot of fruits. There's Asian items on the buffet as well. We also have Western and European dishes. There's everything for everybody," Ackermann adds.
He notes that on top of the music and a great meal, you'll get to have a glass of sparkling wine…and you can have as much as you want, at a very competitive price. Talking of drinks, the most exciting part of it is that there's a Kempinski tradition of opening wine bottles with a sword!
By the time breakfast was done, we unashamedly had popped three bottles of Presco.
As I leave later in the day, having spent sometime in a hotel room that costs Ksh. 500,000 per night and lounged by the exotic swimming pool…I think of how life could get a whole lot better if I got a penthouse just in the vicinity. Will I be going back for more? Yes, please.
As a matter of fact, I'll be wining and dining at Villa Rosa Kempinski Nairobi so often, and you should too. To book, here's the contact:
Chiromo Road, Nairobi, Kenya
+254 203 603 000, +254 703 049 000
Fax +254 202 308 819
reservations.nairobi@kempinski.com
About Villa Rosa Kempinski Nairobi
Set 2.9 km from downtown Nairobi, this high-end hotel is 11.7 km from Nairobi National Park.
The elegant, warm rooms have flat-screen TVs, free WiFi and minibars; some have balconies or terraces. The plush suites add separate lounges; some have city views, kitchens, dining rooms and 24-hour butler service. Upgraded rooms and suites include free breakfast, late check-out and secretarial services.
Amenities include an outdoor heated pool, a spa and a gym, plus a yoga studio and a ballroom. There are also 4 restaurants and 4 bars, including a cigar lounge and a poolside bar. Free valet parking is also available.